World's Most Versatile Entertainer…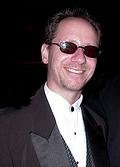 #1 – Motivational Speaker – This 2 hour seminar will teach you the 11 It Ain't Magic Tricks to Goal Setting and Achievement.   You will gain:
 A specific take-away skill set that will stay with you to draw on your inner most strength; to achieve your most challenging goals in business and in life.
Memorable imagery to create true learning and retention so that you have an apparently innate ability to set and achieve the most remarkable personal and professional goals.
Measurable, repeatable and transferable tricks that seem like magic; but They Ain't
---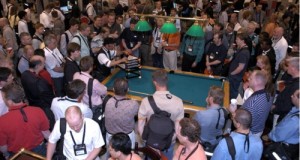 # 2 – Trade Show Sales Entertainer Chef Anton is the #1 Trade Show Sales Entertainer according to Exhibitor Magazine.  In a recent survey of over 2,500 attendees, the audience had an astonishing 92% Retention Rate of our client's Top Three Sales Messages.  Our live customized sales presentations guaranteed to:  Make an Impact on Your Target Demographic, Deliver a Memorable Sales Message, and Generate Qualified Leads.  This unique blend of comedy, magic, and pool ball wizardry has to be seen to be believed.
---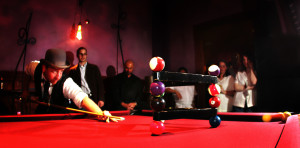 #3 – Award Winning Trick Shot Exhibition Unlike anything you have ever seen.  Two years in a row, Chef Anton won The United States Trick Shot Championships.  This original and creative show is the perfect blend of mind-boggling pool ball wizardry and dazzling sleight of hand.  The audience is stunned as a cue stick appears from a ball of fire.  They burst into applause as a spectator from the crowd pockets 10 balls in one shot.  They laugh uncontrollably as another bystander gets a pool ball shot out of his mouth.  And they explode in unison as a spectator's signed playing card is impaled in mid air at the end of Chef Anton's cue stick.
---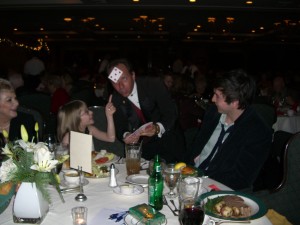 #4 – Strolling Close Up Magic Winning Close-Up Magician of the Year at The Magic Castle in Hollywood, Chef Anton educates the onlookers as to how easily simple honest folk can be taken by a swindler like himself.  This highly entertaining routine includes classic cons such as The Three Card Monte and Shell Game; as well as, lesser known swindles like Fast and Loose, Guessing Game, and Dice Stacking.  Unlike when Chef Anton used to perform on the streets of New York, at the end of this show, he does return the watches, wallets, and rings he stole off his unsuspecting marks.
---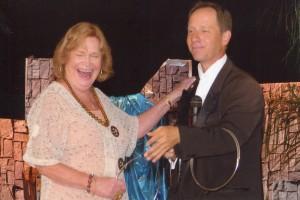 #5 – Stage Magic On stage, Chef Anton combines wit, humor, and audience participation with unbelievable sleight-of-hand and daring pick pocketing to weave a spell of enchantment and deception for all.  Through real life experiences growing up on the streets of New York, Anton proves the age old adage, "Never try to hustle a hustler."  The audience sees the world through the eyes of a con man.  Onlookers become his confederates, as they put the sting on an unsuspecting spectator.  As the con unfolds, the audience, the on-stage volunteers, and the Grifter are caught up in a mystifying web of comedy and trickery with a climax that has to be seen to be believed.