Your Interactive Poker Run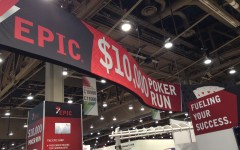 Chef Anton runs an Interactive Poker Run for Epic Aviation LLC
Attendees come to the booth and receive a Poker Card from a crowd gatherer.  This is a custom card that has a value on it (such as the 2 of Hearts of King of Spades)  and also places for the attendee to fill in their contact information, answer qualifying questions, and on the back had places for them to visit.  They would then go to the different stations within the booth.  Following a brief conversation, the attendee would get his card stamped by one of the booth assistance team members.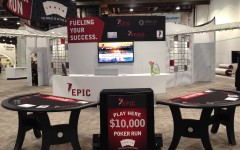 When completed he would to my area.  We had a small stage and seating available.  I would perform a 8-12 minute Parlour Magic Show which has completely different magic tricks than ones you have seen in the past. The show would reinforce your key messages.    I have had other clients that put multiple choice questions on the card and I answer those questions during my presentation so they audience is engaged during mine and reinforcing the messaging by correctly answering the questions.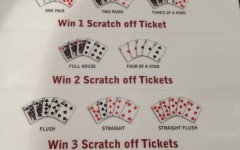 At the end of my presentation, the attendees hand me their filled out card.  I would then play a game of Poker with them.  I deal them four cards and their fifth card is the one they filed out.  Depending on their hand, they would then receive some sort of prize (For example, a Starbucks Gift Card for a pair and iPad Mini for a Royal Flush)  The game can be made easier by having Jokers in the deck that are Wild so you ultimately have a lot of control over how much is given away.
All correctly filled out cards were then placed in a bin for the Grand Prize Drawing on the final day.
This interactive marketing program is effective because the audience is entertained by the magic, informed by the sales presentation, engaged by many of your employees, and then ultimately rewarded for spending time in your booth.
Your Magical Giveaway…
Look to Tricks of the Trade Inc. for unique and memorable trade show premiums.  All of your magical premiums
Empower your target demographic
Feature your products and benefits
Reinforces your sales message.
For additional information, see our Premiums Page