Case Study – Exhibitor Magazine – April 2014
Anthony Riniti on Sunday, April 20th, 2014 Comments Off on Case Study – Exhibitor Magazine – April 2014
As seen in Exhibitor Magazine – April 2014
Live presentations have moved beyond PowerPoint and dry product pitches. See how these six exhibitors used live performers to capture attendees' attention and communicate key messages.
Trade shows have a tendency to reduce normally level-headed professionals into a pack of 6-year-olds with attention deficit hyperactivity disorder. The shiny new products, bright lights, and fancy exhibitry can quickly distract attendees from what matters – your product message.
So how do you combat the sensory assault on the show floor? One way it to turn to live presentations to capture attendees' attention and tell them about your brands' attributes. But to make these presentations more than just staffers reciting dry PowerPoint slides verbatim, hour after hour, many exhibitors hire professional presenters and entertainers.
They can not only help drum up a crowd, but also teach attendees a thing or two about your company's product. And although the acts vary from break dancing to card tricks, all successful performances have one thing in common. They weave the product message into a presentation, and don't just tack it on as an afterthought.
Looking for ideas to create your own entertaining presentation? Then take a cue from these five examples that got it right.
Pool-Table Pitch
Bridgestone America Tire Operations LLC, aka Firestone enlisted Chef Anton of Tricks of the Trade, Inc to perform billiard stunts at the 2013 Mid-America Trucking Show in Louisville, KY.
Chef Anton began each roughly 28-minute performance/sales pitch hybrid by clearing all the balls with a single shot and paralleling that feat to how the decreased rolling resistance and long tread life of Firestone's tires can also knock truckers' problems out with a single shot.
Once Anton had formed a rapport with his audience, he asked for a volunteer for his most daring stunt. While blindfolded, he shot a ball out of the attendee's mouth, which struck a tire that rolled across the pool table and into a pocket. Those brave enough to risk their pearly whites were given a branded ball as a memento.
As a grand finale for his act, Chef created a five-foot tall stack, using 33 balls in total, and shot them all at once. And while he has performed the signature trick for other clients, this time it involved a product-centric twist. Instead of standard billiard triangles for the stack's foundation, Anton substituted pieces of Firestone's tire tread to demonstrate the product's strength and durability.
Chef Anton performed his tricks every hour throughout the three-day show, and attracted upwards of 250 attendees each time. Moreover, attendees spent an average of 22 minutes in Firestone's exhibit compared to the national average of 90 seconds.
Ultimately, Anton's knock-out shot helped Firestone sweep its competition, too.

Exhibitor Magazine Cover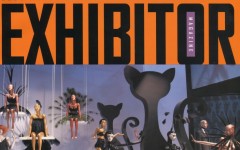 Exhibitor Magazine Introduction